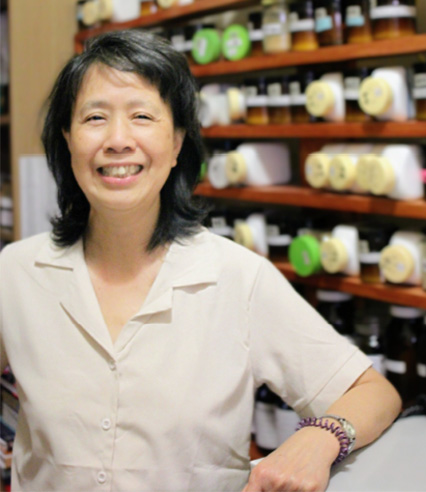 Heidi Yuen
Registered Acupuncturist
Registered Chinese Herbal Medicine Practitioner
Registered Chinese Herbal Dispenser
Qualified Remedial Massage Therapist
Licensed NAET Practitioner
Certified Emotion Code Practitioner
Heidi has worked as an engineer for over 30 years. As a naturally curious and solution-oriented person, she is always fascinated to learn how things work and how to improve them. Disillusioned with the healthcare system in Australia, she chose her second career as a Traditional Chinese Medicine practitioner and Qigong instructor in the belief that ancient Chinese medical theory is able to offer solutions to health crises in the modern world.
Her goal is empowering people to lead a healthy and happy life with a natural approach.
Born in Hong Kong, Heidi is fluent in both Mandarin and Cantonese. She grew up in a culture that uses tradition Chinese Medicine and promotes ideas of natural therapies, such as "food is medicine" and Qigong practice. Her Chinese background enables her to read ancient texts with a deeper understanding.
Heidi is passionate about gynaecology, especially in helping women to overcome issues such as period pain, PMS, menopause symptoms and infertility. Her natural fertility and IVF support treatment is all encompassing including acupuncture, Chinese herbal medicine, cupping, Moxibustion, exercise therapy, as well as dietary and lifestyle advice. Apart from treating the physical body, Heidi taps into the associated emotions to enhance the outcome.
Being an enthusiastic acupuncturist, Heidi is familiar with the centuries-old pain-relieving measures. The Ancient Chinese people found that the human body consists of different meridian channels where Qi (vital energy) flows freely within. If a person is experiencing pain, then there may be blockages in one or more channels. Pain may be relieved by removing the stagnant Qi. Heidi treats a range of pain conditions including headache/migraine, arthritic joint pain, sciatica, fibromyalgia and musculoskeletal conditions such as temporomandibular joint syndrome (TMJ), whiplash, neck pain, tennis elbow, carpal tunnel, frozen shoulder, back pain and Achilles tendonitis.
Heidi's natural warmth and compassion are second only to her ongoing commitment to providing the best in patient care. Seeing that the overweight and obesity epidemic has risen to alarming levels, Heidi started her PhD in 2015 at RMIT to conduct research on treatments with Chinese herbal medicine. She combines the Western and Eastern medical theories on weight management in order to obtain optimal results.
Heidi is a member of AACMA, Australian Acupuncture and Chinese Medicine Association and is a registered acupuncture service provider for the TAC (Transport Accident Commission) and WorkCover.
Qualifications
PhD Candidate – Complementary medicine, RMIT (2015 – )
Bachelor of Health Science – Chinese Medicine, SSNT (2008 – 2014)
Diploma of Remedial Massage, East West College (2009 – 2013)
Master of Engineering, Swinburne University (1996 – 2000)
Professional links
Australia Health Practitioner Regulation Agency
Chinese Medicine Broad of Australia
Australian Acupuncture and Chinese Medicine Association
What is NAET?
What is The Emotion Code?
---